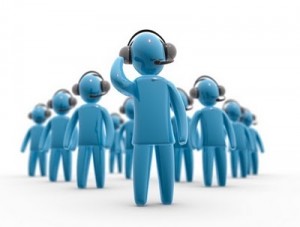 Never let first customer interaction become the last
Delivering a first-hand customer experience is an art that every service provider needs to master in today's fiercely competitive world. The first impression that your brand leaves on a customer's mind is a byproduct of interaction that has taken place between him and your service representative. An enterprise is likely to suffer at the hands of its competitors even if a single call goes unattended. Therefore, inbound customer support is no less important than your best products or services.
Your customer wants to talk to you, not your machines
Prerecorded messages that come with an assurance of callback or ask a caller to follow a certain set of instructions annoy customers because such messages lack human touch and make a customer feel insignificant. On the contrary, interaction with your service executive allows your customers reinforce the trust that they have reposed in your services. Moreover, a service executive can provide more personalized services that a machine can never do. He can show empathy and build much needed rapport, which is vital for enhancing customer satisfaction levels. Therefore, a live agent adds credibility to your inbound call center outsourcing services and helps you build a good brand image.
Let your customer service do what you couldn't
We, at Vcall Global, understand that the satisfaction of customers means more than anything to an enterprise in today's world. Our dedicated service executives are ready to help out your customers at any time of the day. Our inbound call center outsourcing services representatives not only make your customers comfortable but also provide relevant solutions to their problems. We make great efforts to understand customers' requirements and then solve the issue with great dedication. We go out of our way to support the customers and deliver on our promises, always.
We do our best through
Services modified to your business needs.
Experience in several industries.
Speaking for your brand.
Superlative infrastructure.
Deployment of sophisticated customer service technology.
Inclusive service range.
Skilled and experienced resources.
Significant improvement in the quality of service.
Sizeable reduction in operating cost.
Proactive approach towards customers.
Real-time performance monitoring.
We have consistently proved ourselves in areas like