Customer centric organizations consider customer service as an integral part of business development. They ensure that the organizations remain socially connected with their customers through online marketing campaigns as well.
With the advent of social media, the need for active engagement with customers has also increased. The old methods can only provide a myopic view of services. Organizations are gradually learning the art of handling the complexities of social media, in the context of customer service.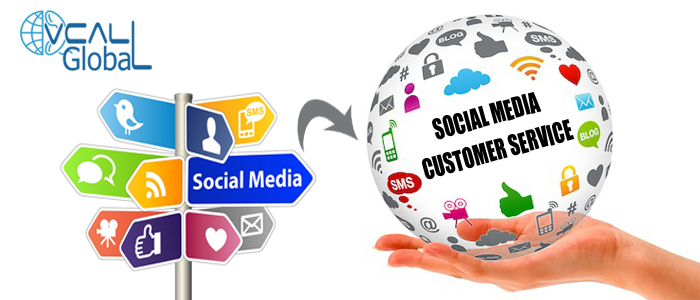 It is natural and convenient for customers to use social media to vent out frustrations with a brand. It brings immediate attention to their issue and reaches a larger audience. Although, the number of social media users is comparatively less for many organizations, but it is not a number that can be ignored. A proactive organization should consider responding timely to complaints put on social media by their customers. It not only justifies the organizations' customer orientation, but also helps in reducing the damage to its reputation caused by negative posts. Lets discuss, why is it helpful for contact centers to monitor social activities.
1. Human face: Organizations that are responsive to online customer complaints, provide a human face to its customers, which is very important for building strong relationships. It ensures active and long term engagement of customers.
2. Reduces marketing expenses: An organization can save itself from defamation by handling its offended customers well on social media sites, and thus protect its brand image. This also ensures a saving on spending for image building. A regular check on social sites ensures high traffic on its sites and thus providing preference on search engines. This saves further on digital advertising costs.
3. Loyal customers: Socially active contact centers build strong relationships with their customers and thus loyal fans.
4. Better market analysis: Contact centers that monitor social media activities of their customers, understand what their customers want better and can help organizations build better products or services.
5. Hyper-personalization: Interacting with customers on a social media platform gives us the opportunity to acquire much more information about the customer than we can acquire through our closed information systems. This gives the agents an opportunity to personalize the interaction with the customers better and thus serve the customer better.
Social media is the next maturity level for contact centers. Now, lets talk about ways of accomplishing social maturity in customer service.
1. Make a social media handling strategy: It is important to clearly identify the goal that you wish to achieve through social media. Wisely set your targets or objectives and identify the prospective customers having appropriate profile. It is equally important to know your competitors well and the platforms available for your customers. Finally, clearly define your strategy and implement it well.
2. Identify parameters for monitoring: It is important to identify parameters for measuring the impact of activity on social media. Based on these parameters the targets can be measured. Tools can be used for measuring parameters such as number of interactions, number of issues identified and responded to, content created or the number of followers.
3. Identify tools for monitoring: It is important for organizations to identify suitable tools for monitoring the activities impacting their business. Having an application which can give an integrated dashboard, and thus reducing the need to actively flip between applications by representatives, improves performance drastically. It is important to develop analytical tools based on information collected to design effective campaigns. There are various commercially available tools, which can help solve the monitoring concerns.
4. Take help from marketing, legal and human resource teams: Every company going on social media to enhance customer service should define an acceptable communication style, policies for agent responses and set standards for evaluation of agents after training. Taking help from marketing, legal and training departments for these activities is advisable and ensures accomplishment of organizational needs and goals.
5. Devise a crisis management plan: Crisis management has to be followed carefully. It is important that as soon as a crisis situation arises on social media, agents respond strategically. It is important to listen completely to the issue, acknowledge it, and then take corrective action. It is also important to respond within 24 hrs of the occurrence, to minimize damage.
6. Listen: It is very important to observe the issue in hand. Unless you are sure about the issue, you should not respond on social media. Never react to any social feedback in a hurry, always respond politely.
7. Ask for feedback: It is always wise for organizations to provide a feedback section for customers on their websites. It provides a single place for customers to share grievances and it becomes easier for service agents to respond and handle issues at a single place.
8. Resolve issues within 24 hours: It is important to stay proactive. The longer an issue stays unresolved, the more the number of dissatisfied customers it can generate. Reply with an apology or response, or request to take it offline for resolution at the earliest.
9. Monitor social media for updates: It is important to keep oneself updated about the latest happenings on the social media, such as information about competitors, pending lawsuits or product issues.
10. Relationship building is a two way process: Make sure that you write regular posts on social media sites, stay connected with your customers, put questionnaires on social media sites for customer feedback, integrate live events with social sites in addition to replying to customer queries.
11. Streamline conversation: It is important to carefully streamline the conversation to avoid negative impact. Scheduling the interaction over social media is equally important as it ensures visibility and engagement with customers. Route customer conversation intelligently to email communication as organizations website to reduce impact and resolve issues conveniently.
We can conclude that the new age customer care cannot ignore the impact of social media. Delivery should be considered complete only once the customer is satisfied. Customer grievances over the social media should be held with more, if not equal care, by the service providers. Providers should monitor social media to help organizations build and retain their customers.