In present consumer driven society, satisfaction level of the customers keeps on changing with the modifications in customer service methods.
Gone are the days when just an executive on a phone was enough to make a customer happy and loyal. Customer service outsourcing companies are incorporating various strategies in their processes to take the customer service to another level.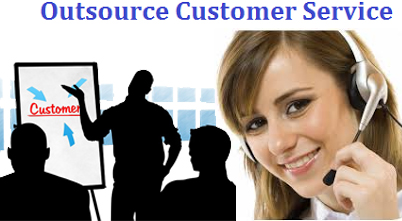 Let's have a look at major trends which are making rounds in outsource customer service industries:
The rise of self service
As per the software development company Zendesk, 5 out of 10 consumers believe that solving issues themselves related to products is essential than taking support of customer service.
Interactive voice response (IVR) and forums related to frequently asked questions (FAQs) are the major ingredients of self service facilities.
Self-Service is beneficial especially during the times of high call volume as customers can be diverted to self-help menus available online. Overall operating costs are also controlled with the reduction in call volumes.
It is essential to allow the customers to choose from self-service option or using the agent support which will increase the rate of customer satisfaction.
Online customer satisfaction surveys
Various outsourced customer service providers are relying heavily on online surveys to examine the satisfaction level of the end customers.
Customer support companies are relying on the fact that retaining a customer is always economical than seeking new customers through costly practices. And feedback from online surveys can indeed provide the company with useful insights that can be used for improving the services.
Some major online tools which are used for conducting effective online surveys include:
Client Heartbeat
QuestionPro
PopSurvey
Floqapp
CRM – The savior
What can be better than the system which manages all the information associated with customer from lead to order?
Yes, customer relationship management (CRM) is savior for customer support executives and other people connected to customer management. It allows access to the information of the customer information simply and also helps in satisfying the customer.
The call center companies normally use a specialized version of CRM suite which is effective for handling large scale customer support services. The small and mid-sized businesses can get the work done through traditional CRM suites.
Major CRM software popular in 2015 include:
SugarCRM
Microsoft Dynamics CRM
Zoho Online CRM
HubSpot CRM
Salesforce CRM
Call backs – Making customers fall in love with brand
Outsourced customer service companies have realized obvious fact that customer will give more preference to a call back rather than waiting on hold.
One of the most useful (and bit indirect) benefit of arranging call back for a customer is that customer will be less frustrated. As a result, agents are able to handle them more easily and solve the queries efficiently.
It is essential to keep in mind that a major chunk of customers prefer call backs to be arranged within 30 minutes of their request. The companies love this trend because they are able to save a lot which is otherwise spent due to waiting of the customers.
Analytics – A mine of useful information
Various companies are utilizing the analytics to understand the preferences of the customer. This information is then used to modify the strategies related to customer handling.
Good thing about data analytics it does gives just limited information but 360 degree view of consumer related behaviors. This investment is indeed proves to be the wisest spending by a company to improve the customer services.
This trend has not reached its maximum potential yet but is expected to be part of every customer support company very soon. The analytics turn the companies to be proactive rather than being reactive to the response of the consumers.
Outbound IVR – The future of customer service
IVR is now not limited just to inbound calls but slowly outsourced customer service companies are noticing its positive impact through outbound campaigns.
Some of the major applications associated with outbound IVR include:
Consumer surveys
Service / product related notifications
Renewing of subscription
Reminders related to appointments
Updates of problem resolution
Conducting surveys
Various companies now do not now to use extra resources for collection of bills as outbound ICR system is able to support them in doing this operation. This also speeds up the process of calling the target users thereby improving overall efficiency of the company.
It is essential for the customer support companies to have the consent of the consumers before launching the campaign related to outbound IVR. A successful outbound IVR campaign functions properly when it is connected to the CRM software. Also, web history of the customer is utilized to use the system effectively.
Each trend generated through innovative ideas has lot of scope in customer service. It is up to the companies to decide which suits them best as per the budget of customer service process.