Outsourcing call centers is one of today's most significant business decisions. Small and large businesses alike are looking for outsourcing partners that can handle their calls at a cheaper cost, offer outbound calling, handle peak traffic issues, and provide customer relationship management professionals (CRM) access.
Call center outsourcing is a way to extract real value from non-core expertise in order to boost strategic competitiveness and generate above-average profits.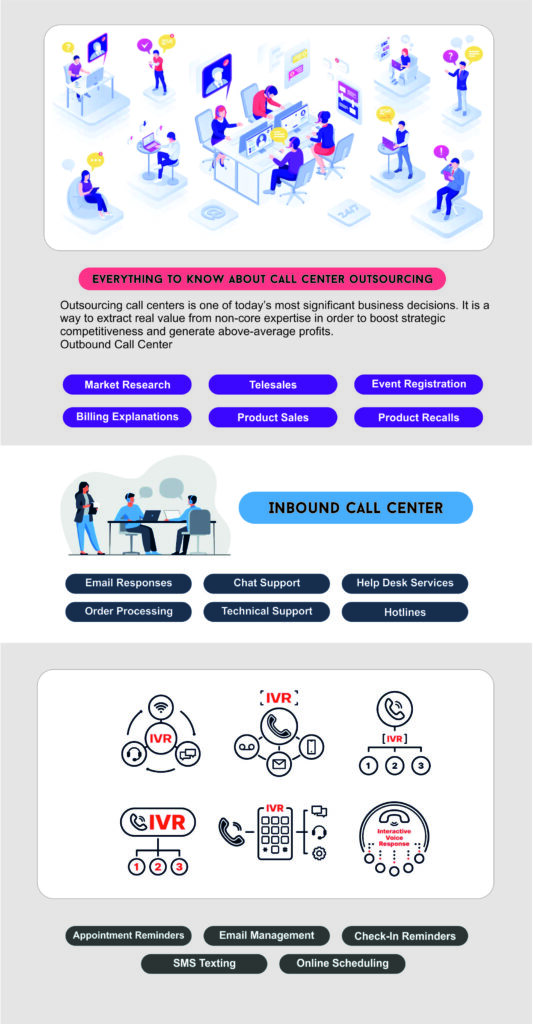 Defined Call Center Outsourcing
Call center outsourcing, also known as business process outsourcing (BPO), is the subcontracting of a specific function to a third-party provider, such as technical assistance, customer care, debt collection, and promotional marketing. It entails making inbound or outbound telephonic calls.
Many businesses engage with contact center outsourcing companies to delegate specific activities from their core operations so that their in-house staff may concentrate on their core competencies. The bulk of call center outsourcing businesses set up shop in nations with low labor prices but high competencies.
If you're a CEO or a shareholder in a company that's thinking about outsourcing contact centers, here's a step-by-step guide to getting you started.
How To Get Started With Call Center Outsourcing
The critical measures to ensuring that your call center outsourcing strategies are on track are outlined below.
1. Assess your requirements.
Define your company needs before you start the call center outsourcing process. It's critical to figure out why you'd hire a call center outsourcing company in the first place.
2. Look for a vendor to work with.
After determining your contact center outsourcing demands and goals, conduct a web search for suitable providers. Companies specializing in outbound or incoming call center outsourcing may be found through platforms or a simple Google search.
Today's businesses strive to maintain high levels of client satisfaction. The call center service company with the finest ratings and most favorable reviews is highly suggested online to attain this aim.
3. Utilize cutting-edge technologies.
Before you complete the call center outsourcing process, make sure you have the necessary tools in place to assure your success. The use of cutting-edge technology in outsourced contact centers is critical.
Customers want businesses to respond to and resolve their issues quickly. As a result, while working with a call center outsourcing provider, ensure that the contact center has all the necessary equipment and systems.
4. Look for people who have the relevant talents.
When choosing a partner to handle your call center, be cautious. Your success is strongly tied to the service provider's abilities, and providing good customer service is heavily dependent on the talents of your call center staff.
Furthermore, the supplier of call center outsourcing services must manage time and responsibilities. Customers despise standing in lines. The representatives must attend to all of your consumers in a timely manner.
5. Choose a call center outsourcing company.
The business you pick will be your principal point of contact with your consumers. Form cooperation in which both firms are working toward the same aims. Hiring the proper partner requires a systematic approach with certain criteria for assessing competencies.
Why Do Companies Use Call Centers?
Organizations are unable to hire a large number of resources. Not only that, but if they hire customer service representatives, they will need sufficient training to deal with clients. The agents in a contact center are taught and create their scripts before speaking with consumers. They can persuade consumers and guide and assist them when they are in difficulty.